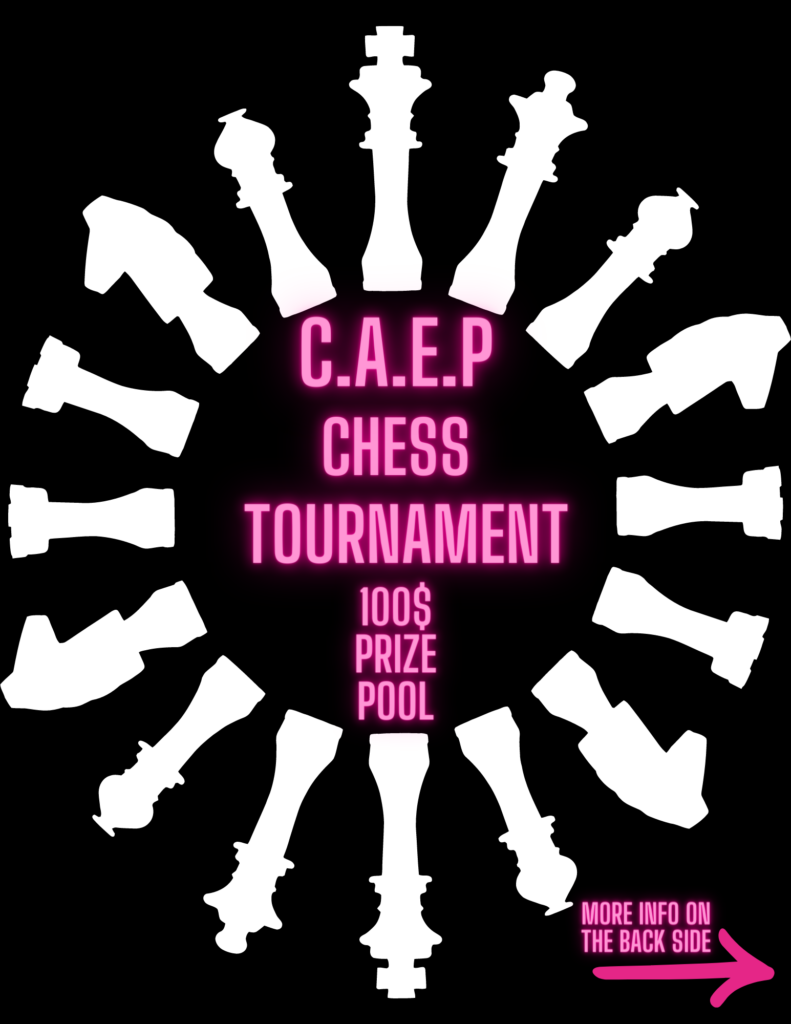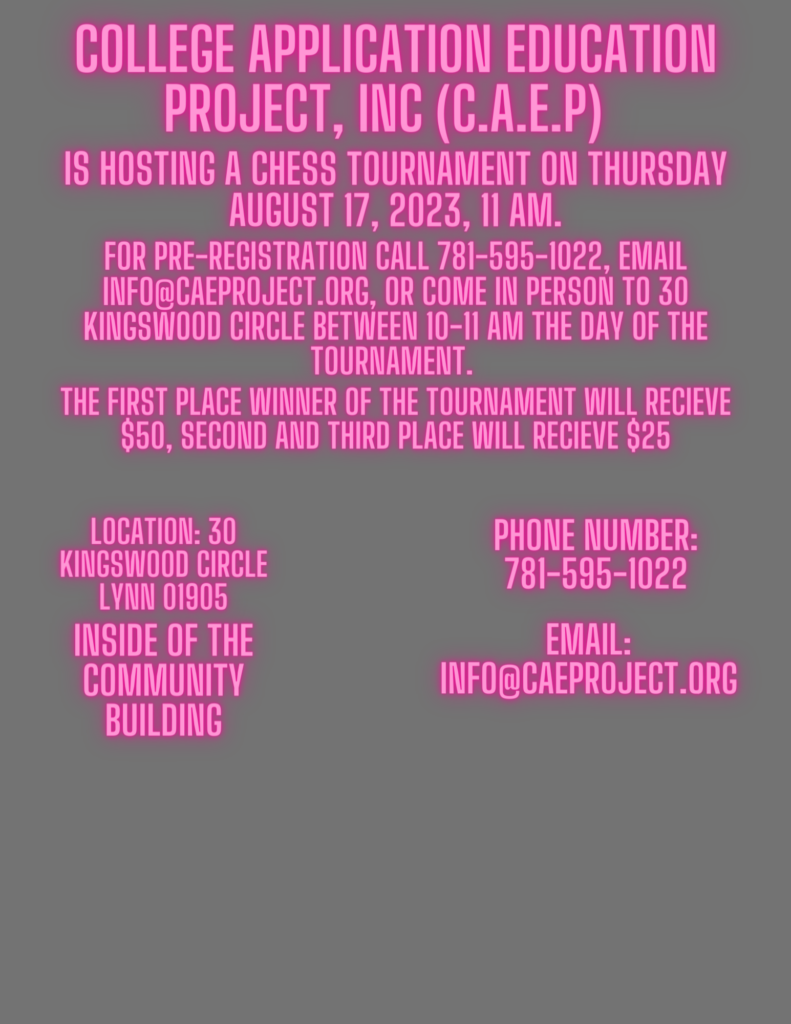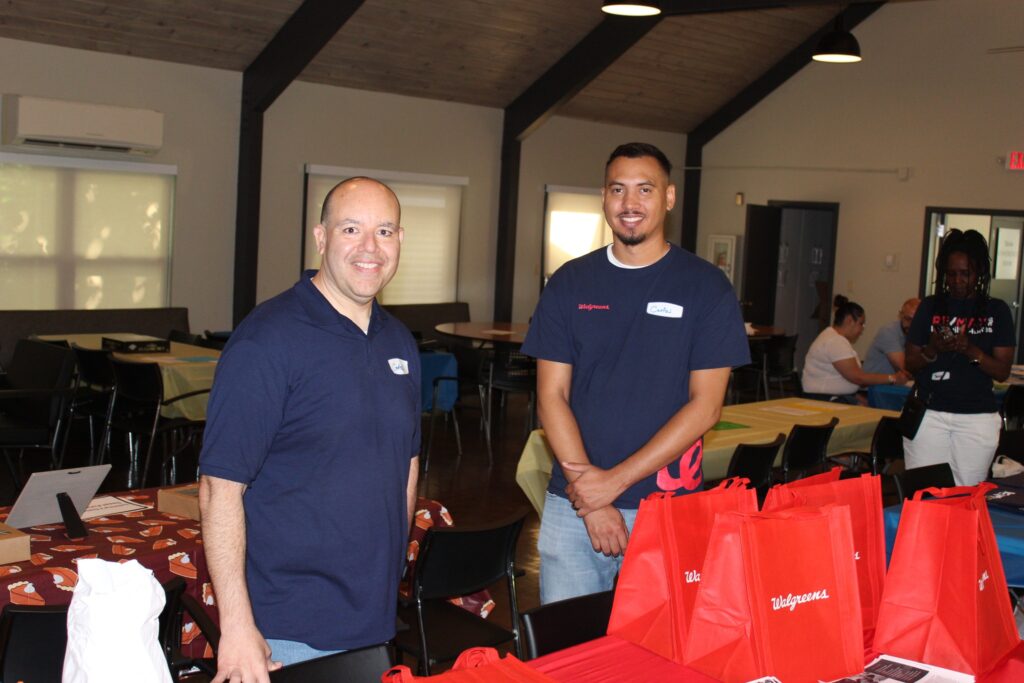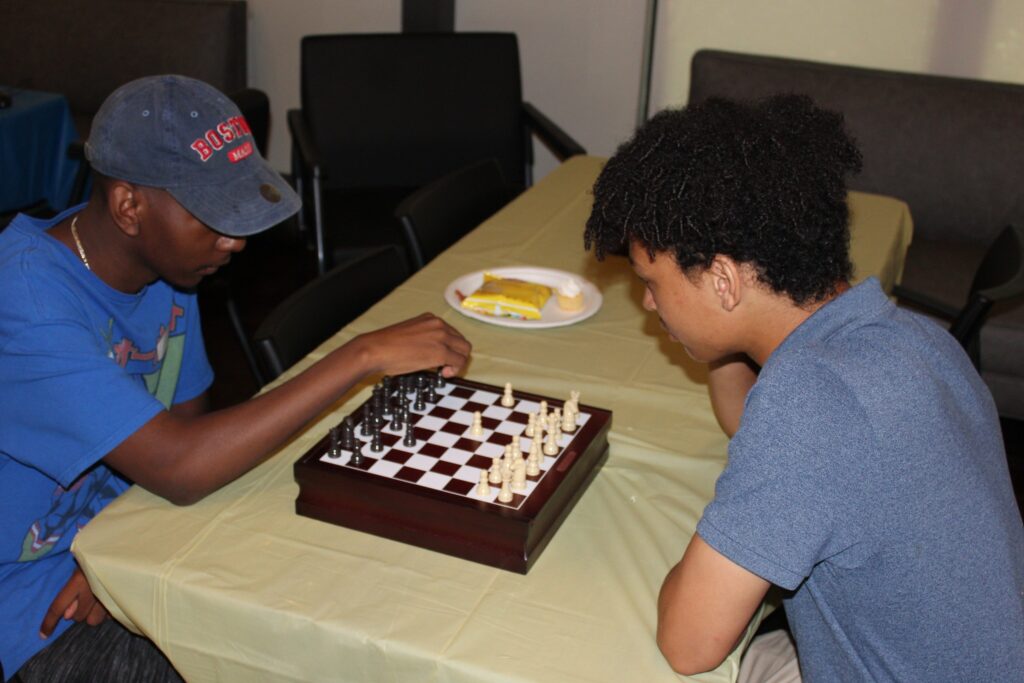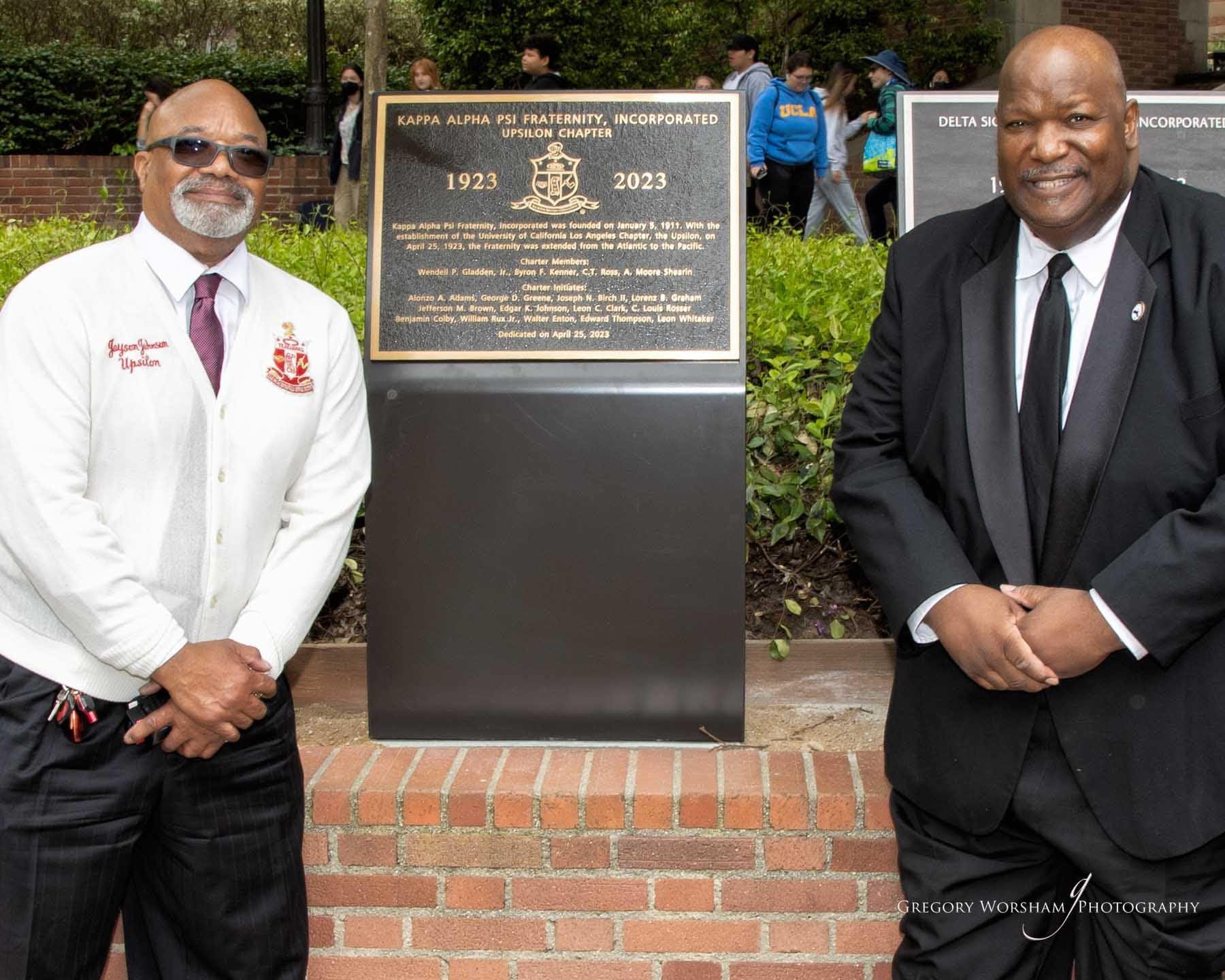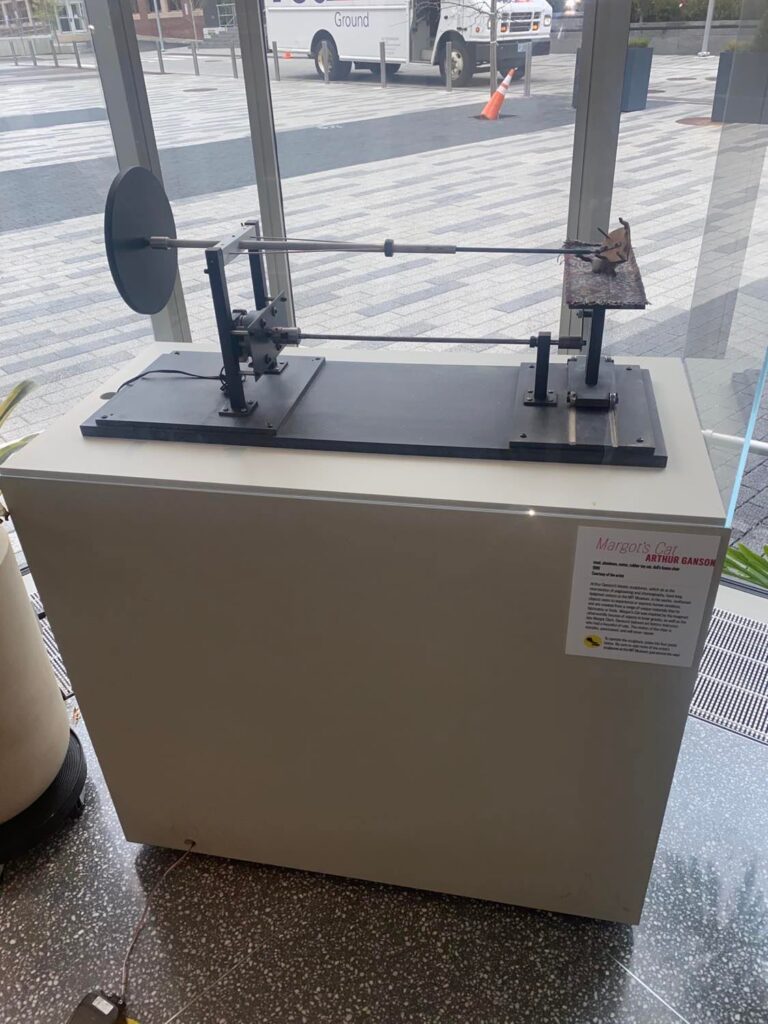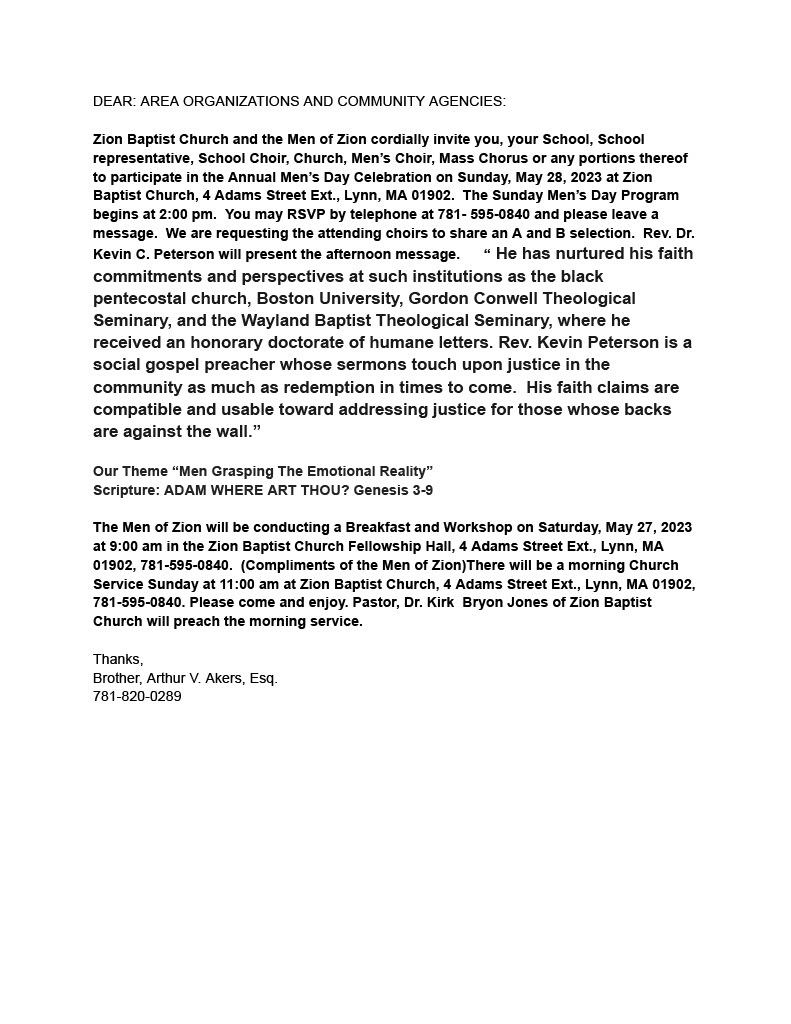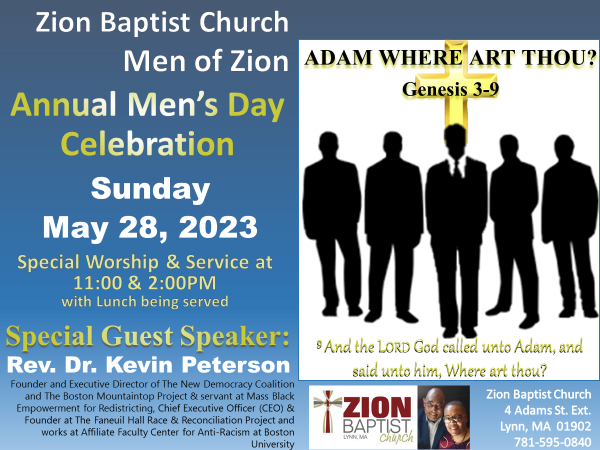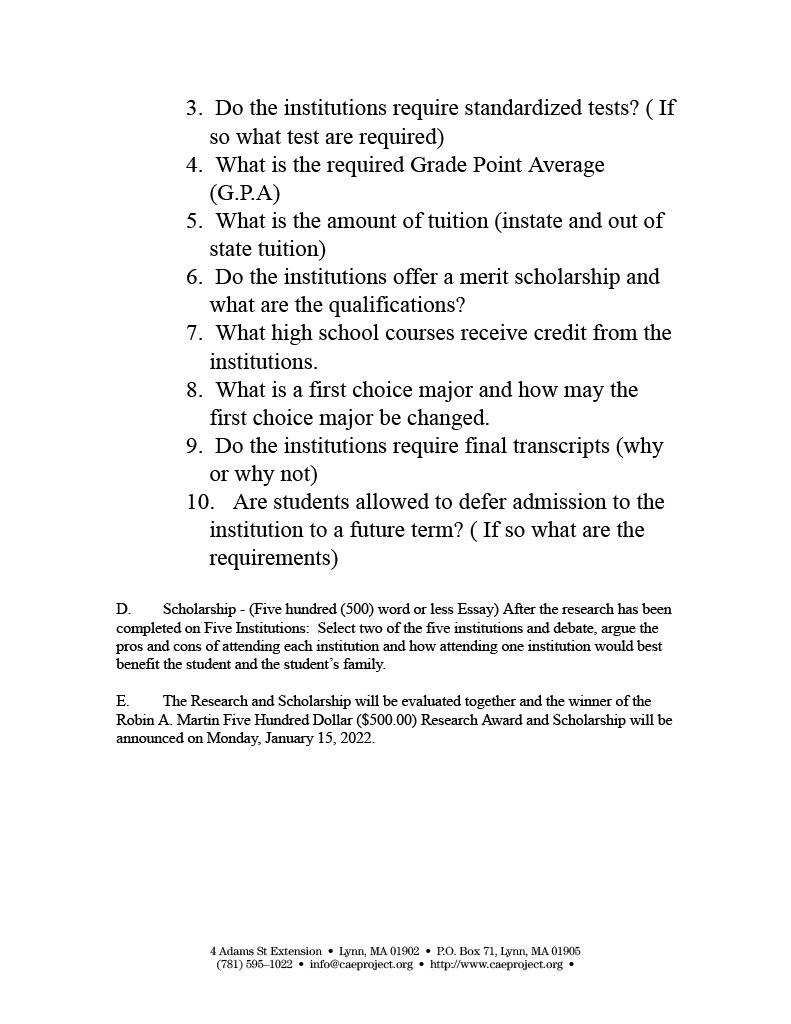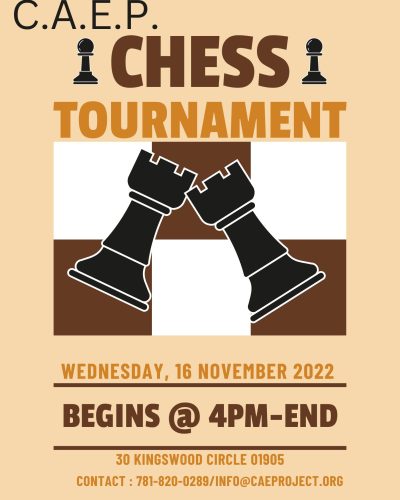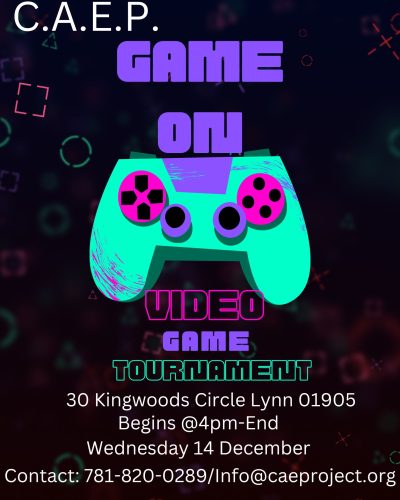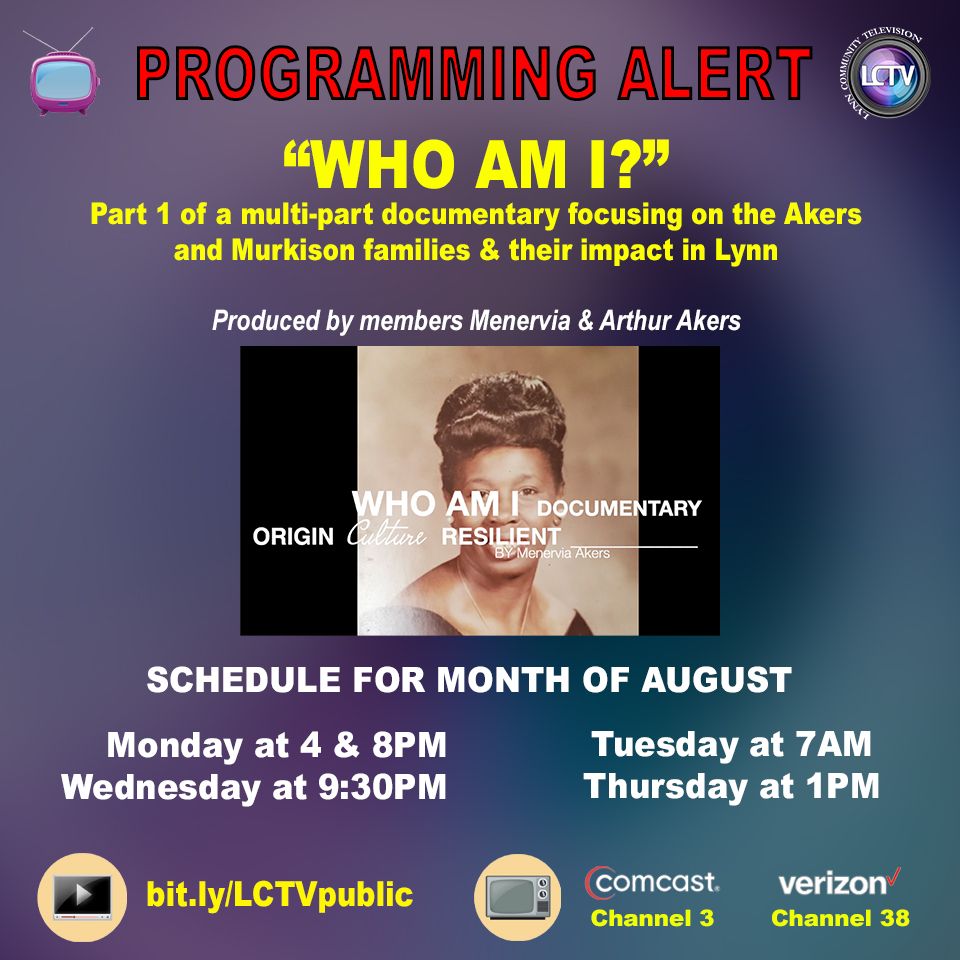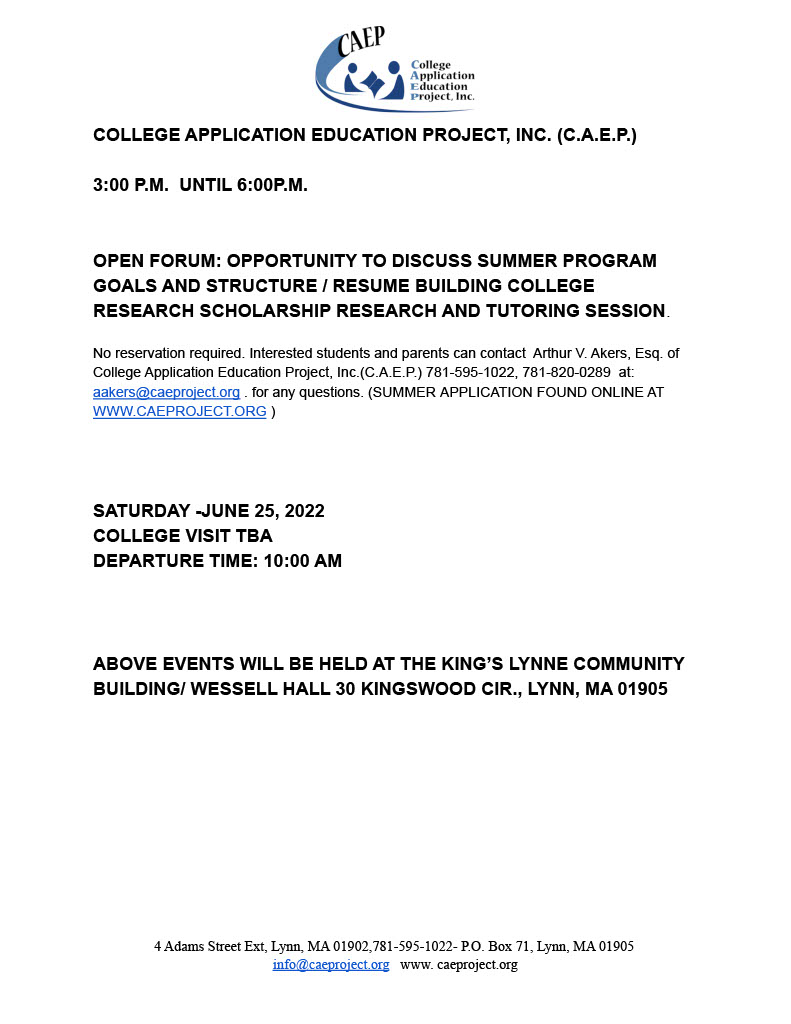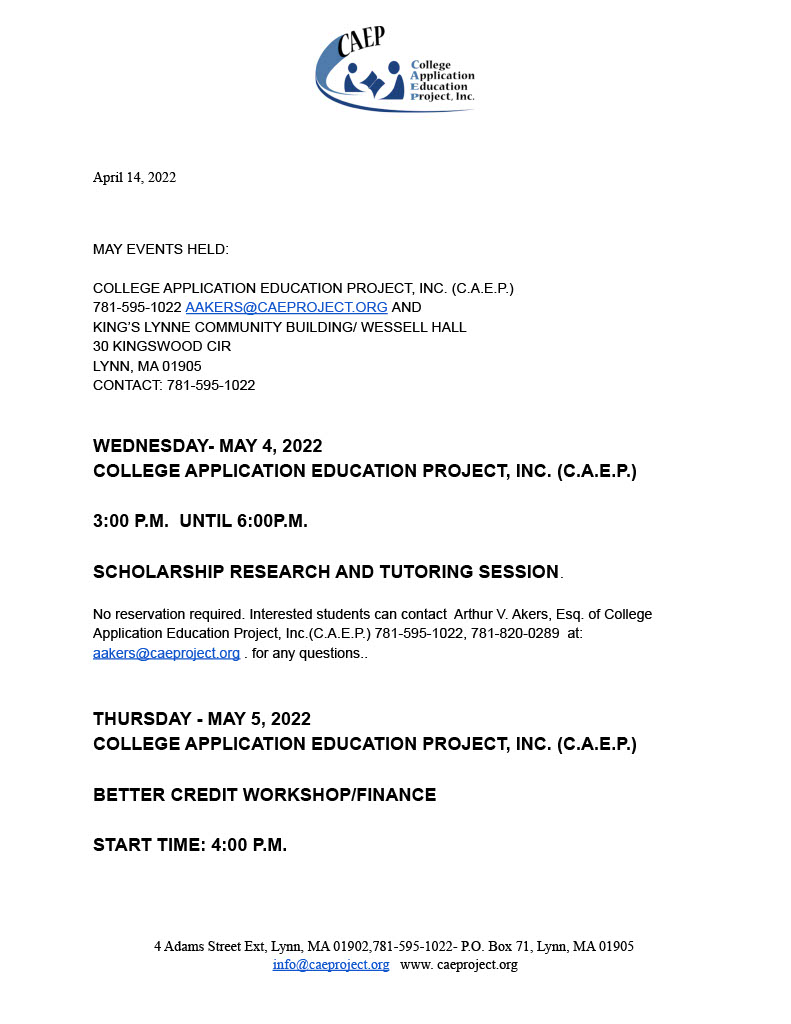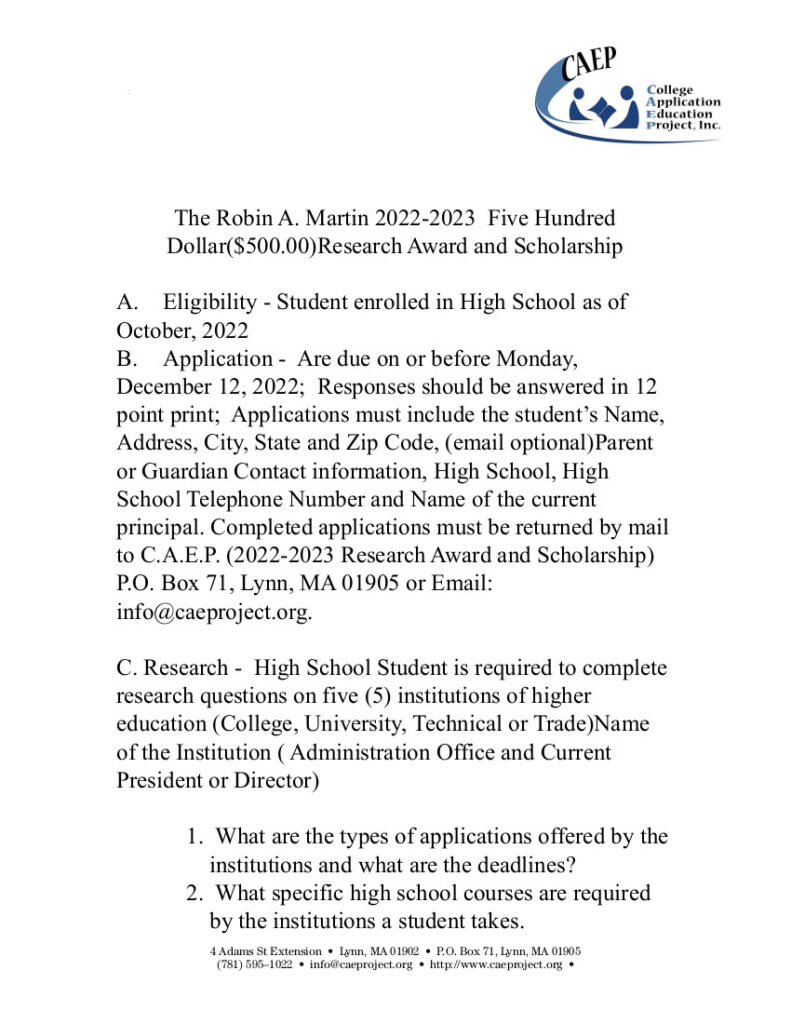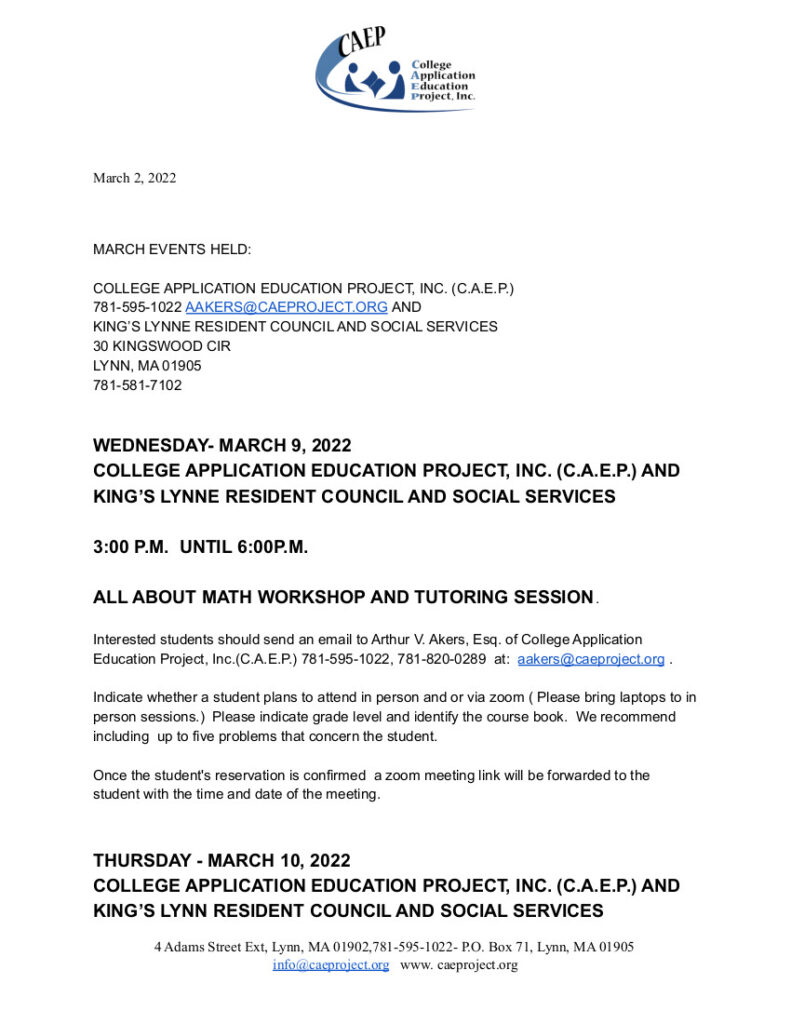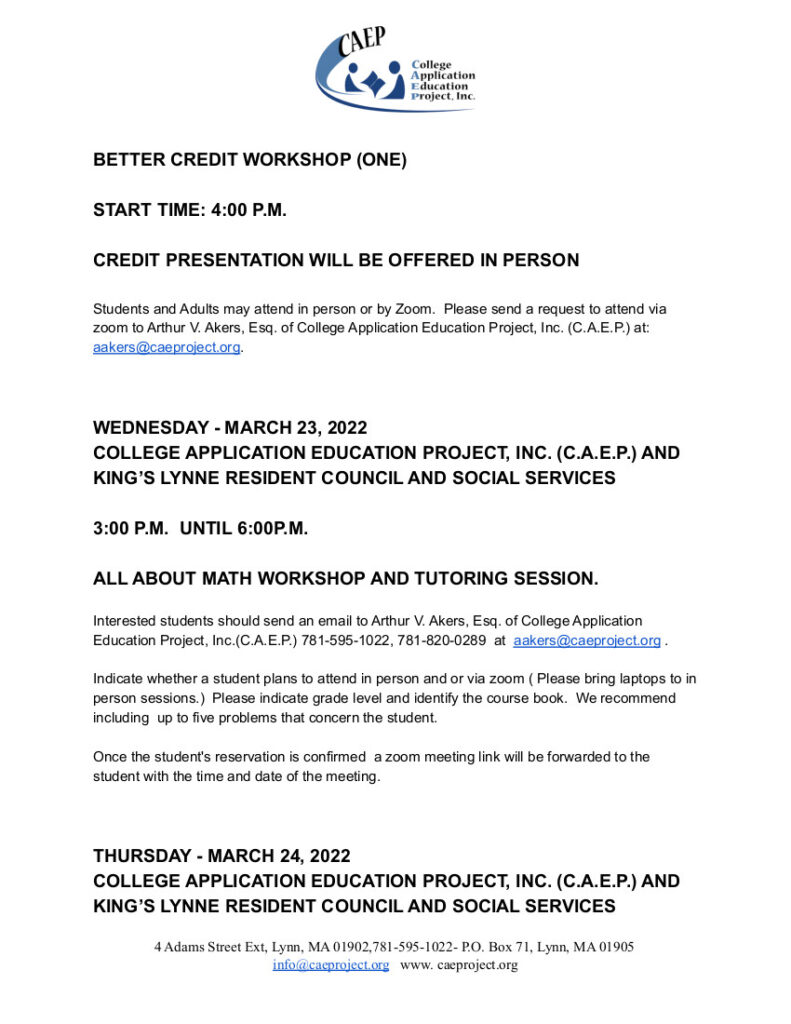 C.A.E.P. AT KINGSLYNNE MARCH, 2022 OUTLINE

MARCH EVENTS HELD:
COLLEGE APPLICATION EDUCATION PROJECT, INC. (C.A.E.P.) 781-595-1022 AAKERS@CAEPROJECT.ORG AND
KING'S LYNNE RESIDENT COUNCIL AND SOCIAL SERVICES 30 KINGSWOOD CIR
LYNN, MA 01905 781-581-7102
WEDNESDAY- MARCH 9, 2022
COLLEGE APPLICATION EDUCATION PROJECT, INC. (C.A.E.P.) AND KING'S LYNNE RESIDENT COUNCIL AND SOCIAL SERVICES
3:00 P.M. UNTIL 6:00P.M.
ALL ABOUT MATH WORKSHOP AND TUTORING SESSION .
Interested students should send an email to Arthur V. Akers, Esq. of College Application Education Project, Inc.(C.A.E.P.) 781-595-1022, 781-820-0289 at: aakers@caeproject.org .
Indicate whether a student plans to attend in person and or via zoom ( Please bring laptops to in person sessions.) Please indicate grade level and identify the course book. We recommend including up to five problems that concern the student.
Once the student's reservation is confirmed a zoom meeting link will be forwarded to the student with the time and date of the meeting.
THURSDAY – MARCH 10, 2022
COLLEGE APPLICATION EDUCATION PROJECT, INC. (C.A.E.P.) AND KING'S LYNN RESIDENT COUNCIL AND SOCIAL SERVICES
4 Adams Street Ext, Lynn, MA 01902,781-595-1022- P.O. Box 71, Lynn, MA 01905 info@caeproject.org www. caeproject.org
BETTER CREDIT WORKSHOP (ONE)
START TIME: 4:00 P.M.
CREDIT PRESENTATION WILL BE OFFERED IN PERSON
Students and Adults may attend in person or by Zoom. Please send a request to attend via zoom to Arthur V. Akers, Esq. of College Application Education Project, Inc. (C.A.E.P.) at: aakers@caeproject.org.
WEDNESDAY – MARCH 23, 2022
COLLEGE APPLICATION EDUCATION PROJECT, INC. (C.A.E.P.) AND KING'S LYNNE RESIDENT COUNCIL AND SOCIAL SERVICES
3:00 P.M. UNTIL 6:00P.M.
ALL ABOUT MATH WORKSHOP AND TUTORING SESSION.
Interested students should send an email to Arthur V. Akers, Esq. of College Application Education Project, Inc.(C.A.E.P.) 781-595-1022, 781-820-0289 at aakers@caeproject.org .
Indicate whether a student plans to attend in person and or via zoom ( Please bring laptops to in person sessions.) Please indicate grade level and identify the course book. We recommend including up to five problems that concern the student.
Once the student's reservation is confirmed a zoom meeting link will be forwarded to the student with the time and date of the meeting.
THURSDAY – MARCH 24, 2022
COLLEGE APPLICATION EDUCATION PROJECT, INC. (C.A.E.P.) AND KING'S LYNNE RESIDENT COUNCIL AND SOCIAL SERVICES
4 Adams Street Ext, Lynn, MA 01902,781-595-1022- P.O. Box 71, Lynn, MA 01905 info@caeproject.org www. caeproject.org
(BETTER CREDIT WORKSHOP (TWO)
START TIME: 4:00 P.M.
CREDIT PRESENTATION WILL BE OFFERED IN PERSON
Students and Adults may attend by Zoom. Please send a request to attend via zoom to Arthur V. Akers, Esq. of College Application Education Project, Inc. (C.A.E.P.) at: aakers@caeproject.org.
SATURDAY – MARCH 26, 2022
COLLEGE APPLICATION EDUCATION PROJECT, INC. (C.A.E.P.) AND KING'S LYNNE RESIDENT COUNCIL AND SOCIAL SERVICES
COLLEGE VISIT DEPARTURE TIME: 10:00 AM
Students may request permission slips from Arthur V. Akers, Esq. of College Application Education Project, Inc. (C.A.E.P.) 781-820-0289, 781-595-1022 or email at: aakers@caeproject.org.
WEDNESDAY- MARCH 30, 2022
COLLEGE APPLICATION EDUCATION PROJECT, INC. (C.A.E.P.) AND KING'S LYNNE RESIDENT COUNCIL AND SOCIAL SERVICES
3:00 P.M. UNTIL 6:00P.M.
ALL ABOUT MATH WORKSHOP AND TUTORING SESSION.
4 Adams Street Ext, Lynn, MA 01902,781-595-1022- P.O. Box 71, Lynn, MA 01905 info@caeproject.org www. caeproject.org
Interested students should send an email to Arthur V. Akers, Esq. of College Application Education Project, Inc.(C.A.E.P.) 781-595-1022, 781-820-0289 at aakers@caeproject.org .
Indicate whether a student plans to attend in person and or via zoom ( Please bring laptops to in person sessions.) Please indicate grade level and identify the course book. We recommend including up to five problems that concern the student.
Once the student's reservation is confirmed a zoom meeting link will be forwarded to the student with the time and date of the meeting.
ABOVE EVENTS WILL BE HELD AT KING'S LYNNE RESIDENT COUNCIL AND SOCIAL SERVICE, 30 KINGSWOOD CIR., LYNN, MA 01905
4 Adams Street Ext, Lynn, MA 01902,781-595-1022- P.O. Box 71, Lynn, MA 01905 info@caeproject.org www. caeproject.org
4 Adams Street Ext, Lynn, MA 01902,781-595-1022- P.O. Box 71, Lynn, MA 01905 info@caeproject.org www. caeproject.org
Hi Arthur
I hope you are doing well.  I wanted to update you about summer jobs.  Due to the current Covid-19 emergency, the summer programming is going to be very different this year. We plan to have youth completing 1 of 2 types of work-
1. The City of Lynn application is out for youth looking for outdoor maintenance/landscaping/cleaning jobs.
2. We are going to run a few cohorts of youth who will work virtually from home to learn about careers, gain professional skills, and complete project based learning.  These youth will earn a  stipend for their time, equal to minimum wage.
As we are not awarding specific worksites this year, we welcome any youth in your program to apply to the outdoor positions or the virtual program.  The link can be found at
Please contact us if you have interested youth, or you can send us their names after you tell them to apply.
We hope next summer will be back to "normal"
Katie Crowder
Manager of Youth Workforce Initiatives
MassHire- North Shore Workforce Board
(978) 741-3805
The Robin A. Martin 2020-2021 Five Hundred Dollar($500.00)Research Award and Scholarship
Eligibility – Student enrolled in High School as of October, 2020
Application –  Are due on or before Monday, December 14, 2020;  Responses should be answered in 12 point print;  Applications must include the student's Name, Address, City, State and Zip Code, (email optional)Parent or Guardian Contact information, High School, High School Telephone Number and Name of the current principal. Completed applications must be returned by mail to C.A.E.P. (2020-2021 Research Award and Scholarship) P.O. Box 71, Lynn, MA 01905.
Research –  High School Student in required to complete research questions on five (5) institutions of higher education (College, University, Technical or Trade)Name of the Institution ( Administration Office and Current President or Director)

What are the types of applications offered by the institutions and what are the deadlines.
What specific high school courses are required by the institutions a student takes.
Do the institutions require standardized tests? ( If so what test are required)
What is the required Grade Point Average (G.P.A)
What is the amount of tuition (instate and out of state tuition)
Do the institutions offer a merit scholarship and what are the qualifications?
What high school courses receive credit from the institutions.
What is a first choice major and how may the first choice major be changed.
Do the institutions require final transcripts (why or why not)
Are students allowed to defer admission to the institution to a future term. ( If so what are the requirements)

Scholarship – (Five hundred (500) word or less Essay) After the research has been completed on Five Institutions:  Select two of the five institutions and debate, argue the pros and cons of attending each institution and how attending one institution would best benefit the student and the student's family.
The Research and Scholarship will be evaluated together and the winner of the Robin A. Martin Five Hundred Dollar ($500.00) Research Award and Scholarship will be announced on Monday, January 18, 2021.
2020 https://www.eventbrite.com/e/college-application-education-project-inc-ask-and-donation-request-tickets-103021227264
Re: College Application Education Project, Inc. (C.A.E.P.) is requesting all C.A.E.P. Champions to rise and support this individual donor ASK to support C.A.E.P. by making a donation with eventbrite. Donations may also be mailed: Mail to College Application Education Project, Inc. (C.A.E.P.) 4 Adams Street, Ext., Lynn, MA 01902; Telephone – 781-595-1022.
info@caeproject.org
Dear Supporters and Friends:
Your fully Tax Deductible Donations may to College Application Education Project, Inc. (C.A.E.P.) however, the donation serves this entire community. The donation allows C.A.E.P. and the leadership of C.A.E.P. to effectively serve several worthy organizations in this community:
COLLEGE APPLICATION EDUCATION PROJECT, INC. (C.A.E.P.)
The mission of the College Application Education Project, Inc. is to set up an institutional mechanism and a community structure whereby parents and middle school and high school students of all cultures can receive direct college preparation. This training assists them with career development, college preparation, admissions, and financial applications. The Motto of C.A.E.P. is "To Effectuate Positive Change through Effort, Attitude and Opportunity." C.A.E.P. has hired over 200 parents and students. Many former employees are New Americans and have successfully matriculated in employment and educational systems. C.A.E.P. continues to vigorously work toward a healthier and safer community by partnering with the Lynn Police Department and Foresters Financial Services, Inc..
LYNN COUNCIL ON AGING (LCOA)
Your support and donations allow C.A.E.P. participants and leaders to serve to assist the mission of the LCOA by volunteering and assisting seniors with Spring and Fall leaf raking and Winter snow removal. Arthur V. Akers serves on the (LCOA Board and contributes to the free tax program, meals on wheels program; field trips and holiday celebrations among other services to assist the seniors.
THE COMMUNITY BROTHERHOOD AND AUXILIARY SCHOLARSHIP FUND, INCORPORATED
Over the years many C.A.E.P. participants have received scholarships from this Scholarship Fund. The Fund gives up to twenty scholarships annually to worthy students in the Lynn Area. Arthur V. Akers serves as President of the Scholarship Fund. The Brotherhood Club has been a mainstay in this community since the 1960's.
ZION BAPTIST CHURCH
College Application Education Project, Inc. (C.A.E.P.) is housed at Zion Baptist Church. The Church provides a steady flow of volunteers and participants. Many Church members have secured employment at C.A.E.P. Several Church Members have received the Robin A. Martin Scholarship Award. Arthur V. Akers serves as President of the Men's Auxiliary and former Financial Secretary. The Men of Zion have shown to be a Pillar of Zion Baptist Church. The Men of Zion leadership keeps Zion Baptist Church committed to Faith, the community and social justice.
ESSEX COUNTY COMMUNITY ORGANIZATION (ECCO)
Youth in our communities have spearheaded the major triumphs in social change. The relationship with ECCO and C.A.E.P. is solidified. Arthur V. Akers serves on the Board of Directors at ECCO and C.A.E.P. participants are happy to share in the recent successes of ECCO:
FREDERICK DOUGLASS 200TH BIRTHDAY COMMITTEE LYNN C.A.E.P. was proud to celebrate the City of Lynn's Role in the Life of so great a man as Frederick Douglass. Arthur V. Akers was happy to lend his voice as Frederick Douglass.
Again we stress that your donation to College Application Education Project, Inc. (C.A.E.P.) serves as a donation to the entire community. The best to you and yours.
Sincerely
PARENTS, STUDENTS AND STAFF
Arthur V. Akers
President
Out of all of the above, the youth are the most valuable and the most vulnerable and require the most resources. C.A.E.P. Youth have set this community on fire for life, achievement and success. Please join us in this effort.
Tax Deductible Donations can be made by mail to:
College Application Education Project, Inc. (C.A.E.P.)
4 Adams Street, Ext.
Lynn, MA 01902
781-595-1022